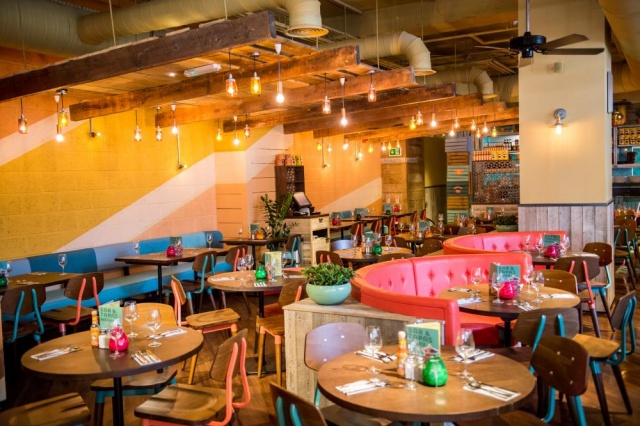 Las Iguanas
Location: Cathedral Lanes Shopping Centre, Broadgate, CV1 1LL
Cuisine: Latin American
Las Iguanas live for food, and bring food alive – with an irresistible bolt of Latin American energy. All the food is top-quality, fresh British produce with added ingredients from around the world, to conjure delicious, authentic South American food, made with passion, love and lots of Latin magic. The food pulses with its exotic 16th Century roots – a mouth-watering confusion of native Latin American Indian, Spanish, Portuguese and African influences.
Open our doors, and you open yourself to the colour, chaos and charm of Latin America. Every restaurant is unique. Because each is filled with different treasures from our many visits to our favourite continent, from a piece of artisan furniture to a special dish on the menu. We can't promise the hazy sun of Copacabana beach – but you'll find the iconic swirls of the black and white pavement in one restaurant, and the Ipanema pavement in another. And some life-sized Latinos in some others, if you know where to look.
We love South America. And living the Latin life for real. Learning native recipes and authentic cooking techniques, absorbing design inspiration. Our travels have taken us to some of the most exciting kitchens and markets in South America to see delicious dishes cooked at the table from the freshest ingredients and that's what we endeavour to bring back with us to the UK. At Las Iguanas we insist on using fresh ingredients in our kitchens. We make over 30 salsas and sauces by hand each day and our chefs create your food with love and care just like the cooks we've met on our travels.
Las Iguanas is an adventure. You'll discover new tastes, and fall in love with new favourites – and feel the warmth and welcome of South America.
Closing at 10pm for dine-in from 24th Sept due to Government guidelines
Mon-Wed: 10am-11pm
Thur: 10am-11pm Bar open until 12am
Fri-Sat: 10am-11.30pm Bar open until 1am
Sun: 10am-10.30pm