Coventry Cathedral
Temporarily closed due to COVID-19
The New Cathedral is a work of inspiration. Work started a day after the Old Cathedral was bombed during the Blitz of 1940, and the Cathedral is now recognised as a beacon of hope, fellowship, peace and reconciliation. The decision to rebuild the cathedral was taken the morning after its destruction.
Rebuilding would not be an act of defiance, but rather a sign of faith, trust and hope for the future of the world. It was the vision of the Provost at the time, Dick Howard, which led the people of Coventry away from feelings of bitterness and hatred. This has led to the cathedral's Ministry of Peace and Reconciliation, which has provided spiritual and practical support, in areas of conflict throughout the world.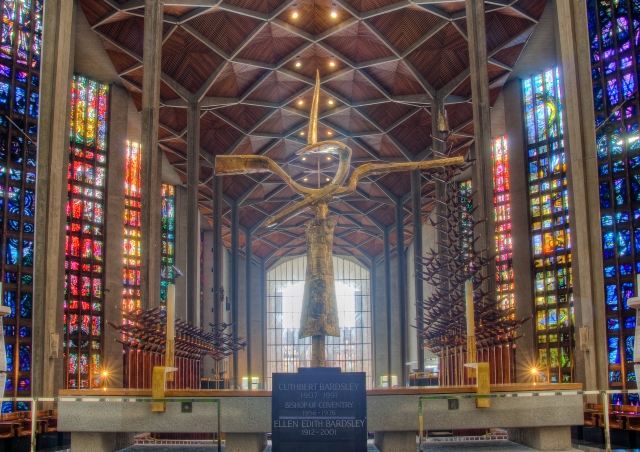 Opening Times
Temporarily closed due to COVID-19
Mon-Sat: 10am-5pm *
Sun: 12noon-4pm
* (Access to parts of the Cathedral may be restricted an hour before closing time to allow us to prepare for the 5.15pm (4pm on Sat-Sun) service of Evening Prayer or Choral Evensong)
Cathedral Tower climb
Mon-Sat: 10am-3.30pm
Sun: 12noon-3pm
Pricing
There is no charge for individual visitors to the Cathedral but we do ask for donations in order to support the upkeep and work of this amazing place.
Cathedral Tower climb: £4
tourist
cathedral
worship
medieval
free for students