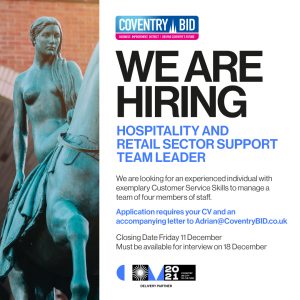 JOB DESCRIPTION
Job title: Hospitality and Retail Sector Support Team Leader – Coventry BID – 2021 Support Team
Working hours: 40 hours a week, shift work to include some evenings, weekends and bank holidays will be required.
Location: To Be Determined by the Line Manager
Successful candidates will be subject to an enhanced DBS check.
Job function: 
In December 2017 Coventry was announced the UK City of Culture 2021 and a city-wide partnership is currently getting ready to welcome 2.5 million additional visitors – who will provide a significant boost to the local economy. Working with the City of Culture Trust, the BID is now recruiting for team members to work closely with the hospitality and retail sector to assist them to make the most of the commercial opportunities that will arise from the City of Culture title.
 Core Responsibilities:
To devise an outreach and training programme to directly support retail and hospitality businesses.
Develop relationships with the hospitality and retail sector to understand their longer-term priorities, to assist with their engagement with City of Culture activities.
Line Management of the Business Support Agents on a seven day per week rota.
Working with Trust colleagues and its partners to develop and deliver a campaign to motivate hospitality and retail business to participate.
To develop relationship with visitor accommodation and travel providers to ensure that they are ready to take advantage of the commercial opportunities.
Keep up to date with and provide the BID businesses with accurate information about the Trust's plans and about the retail, leisure and cultural offer in particular.
To develop and deliver, with Trust colleagues, in person regular briefings for hospitality and retail sector businesses.
Providing regular reports and updates to the Trust's Monitoring & Evaluation team.
Contributing to the provision of an extensive and daily presence around the BID area in all weathers to maximise contact with businesses. This presence should aide impromptu communication with businesses and members of the public.
Always ensure the safety and welfare of the team, ensuring that the team present themselves as Champions and Cultural Ambassadors to both the Trust colleagues and BID businesses.
Liaison with businesses, handling customer enquiries as they arise or referring these on to the relevant person.
Presenting a warm welcome and a pleasant view of the city centre to visitors, whilst maintaining a publicly positive tone about the city and the BID.
Accurately reflecting Coventry BID's values and service and to be aware of the Trust & BID's activities and special events.
Carrying out specific liaison duties as required by The Trust and the BID or its partners as requested.
Reporting relevant information for action to the Support Supervisor as appropriate authority.
Responding to requests for Ambassador support through the City Retail radio scheme quickly and efficiently.
Maintaining methodical and accurate records of required information.
Making BID management aware of any relevant information relating to BID businesses.
Maintaining and growing the relationships with levy payers and other city centre businesses.
Use of appropriate tools and equipment, including security radios and tablets/phones.
Attending training courses (at Company's expense) as and when required by the Company to achieve a satisfactory level of competence.
Providing a supervisory and line management role for apprenticeships, volunteers or other trainee or voluntary support in the Street Business Support Agent scheme.
Distributing literature on behalf of the Trust/BID as required.
Completing any other duties as deemed appropriate and delegated by the line manager.
Strict attention to personal responsibilities in the areas of risk management, health and safety, and welfare, both in terms of self and others.
Adherence to Company training procedures and protocols at all times, subject to level of attainment.
Adherence to the uniform policy and adherence to the company's general dress code.
Adherence to all company procedures and policies as set out in the Staff Handbook.
To be completely free from discrimination in all guises.
Note: The above list is not in order of priority, and other tasks commensurate with the grade of the post may be required of the postholder
Person Specification:
• An effective communicator, able to build and maintain relationships with colleagues, agencies, and partners.
• Attributes of diplomacy, confidentiality, trust and respect for colleagues and partners.
• Knowledge of the local and regional cultural sector.
• Experience of line management.
• Excellent administration and organisation skills with strong attention to detail.
• Commitment to delivering exemplary customer service, considering access needs when designing programmes and activities.
• A can-do attitude with experience of working with multiple partners with competing demands.
• Competent across IT and software, including a strong working knowledge of Microsoft Office, and willingness to learn other software programmes.
• To be based in, or able to move within commuting distance of Coventry.
 Contract: Fixed term contract until 31st March 2023
Application requires your CV and an accompanying letter to adrian@coventrybid.co.uk 
CLOSING DATE – 11th December
INTERVIEWS – 18th December