Where to go for a great night out in Coventry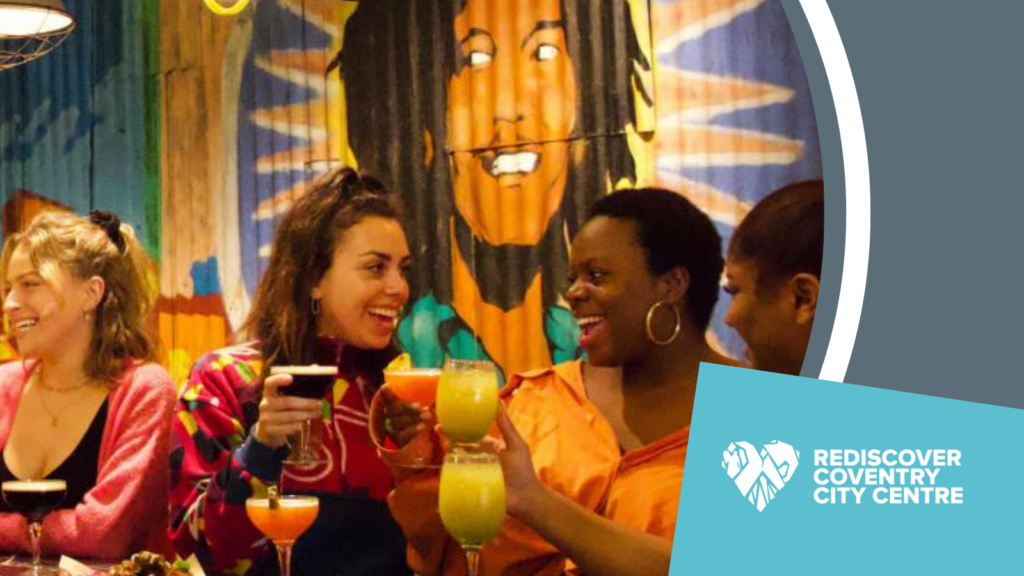 When it comes to a good night out, Coventry really does have it all. Great pubs for a few drinks, cocktail bars, restaurants, fun and games at venues offering everything from golf to axe-throwing, or the chance to dance the night away at some of the city's great after-hours spots.
Whether it's date night, drinks with friends, or a big party night out, there is a never-ending list of places to spend your evening in Coventry. Here's some inspiration for a great night out:-
Proper pubs
If it's a few simple drinks you're after, there's plenty of choice. Head to Gosford Street for popular student pubs including The Oak Inn and The Phoenix, or try Spon Street for the oldest pub in Coventry, The Old Windmill.
A bite to eat
For a bite to eat, you're spoiled for choice when it comes to casual dining, with the chance to eat food from around the world at Coventry's restaurants and eateries.
In Cathedral Lanes you'll find popular chains including Wagamama, Five Guys, Las Iguanas and Turtle Bay. Nearby in the city centre other options also include Nando's as well as popular burger chain 7Bone Burger on Hay Lane. Near Coventry University there's a whole area bustling with Asian food, including Korean barbecue, sushi and ramen, and on Far Gosford Street and FarGo Village you'll find pretty much every cuisine you need, from Turkish to noodles and more. Make sure you check out FarGo's very own indoor street food venue, Factory, for events, food, drinks and music.
Cocktails galore
Cocktail-lovers have plenty to choose from in Coventry. Big-name chains like The Botanist, the Slug & Lettuce, Cosy Club and Turtle Bay serve up cocktail deals throughout the week, while Coventry also has its own independent bars shaking their own creations for the perfect night out. At Metropolis you'll find an impressive list of cocktails including the 'Culture Shock', a tribute to Coventry's year as UK City of Culture, or you could enjoy the unique setting of an outdoor booth at Dhillons Spire Bar for a few of their cocktail creations. For a smart setting, head to the Telegraph Hotel which serves up cocktails in its bar as well as on its rooftop Generators bar in warmer months.
Elsewhere in the city you'll find Samoan Joes, serving up cocktails with impressive 'flair' moves!
Fun & Games
Everybody loves some fun and games on a night out, and Coventry's got a few venues where you can get competitive over a few drinks. Head to Boom Battle Bar in Cathedral Lanes for everything from pool and crazy golf to beer pong and axe-throwing.
Music Hotspots
Coventry gets some of the biggest acts in the country at its city centre venues, and the past few years have seen performances from artists including Ed Sheeran and Tom Grennan. The HMV Empire has proved a huge hit since it reopened in 2021 and has a stellar line up of great gigs already planned for the coming months.
Late night
If you want to party the night away, Coventry is a great place to go, from late bars to nightclubs.
Samoan Joes is a great place to carry on the night in the city centre, or you could head to The Yard, renowned as one of the area's best LGBTQ+ venues with brilliant music, cabaret and cocktails.
Don't wait any longer, begin planning your night out in Coventry today!