Welcome to Coventry Students!
Welcome (back) to Coventry City Centre, a vibrant hub of activity and excitement for students with a plethora of options to explore and enjoy. Whether you're a newcomer to our historic city or a local looking to discover something new, Coventry offers an array of experiences that cater to every student taste and interest.
From cultural gems to mouthwatering dining spots, from thrilling events to cozy hangout spots, Coventry City Centre has it all for students to make memories experiencing all that the City Centre has to offer.
We're showcasing all the best things available to students, from discounts for food and drink to student events and nights out to help you make the most memories during your time studying in the City.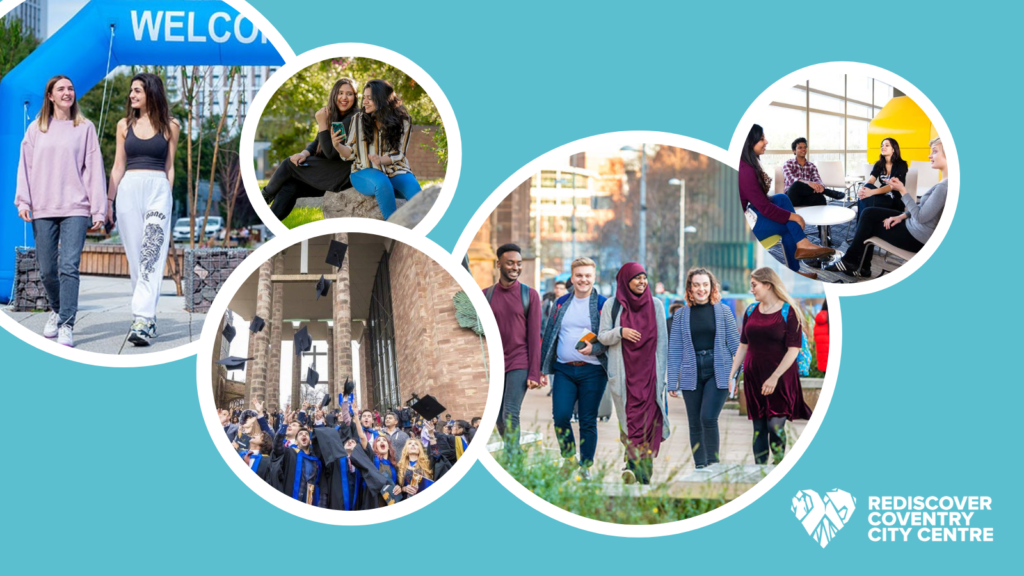 Student Discounts in Coventry City Centre
Coventry is host to students from around the world each year, so it's no surprise that our businesses want to make things a little easier with student discounts available at a huge array of businesses. From eating out to work out, new wardrobes to new books, Coventry City Centre has it all on offer for you.
Restaurants
Zizzi – Cathedral Lanes in Broadgate – 30% off food Monday-Wednesday
Chopstix – West Orchards Shopping Centre – 10% off
Bella Italia – Belgrade Plaza – 30% off mains Sunday-Thursday
Las Iganuas – Cathedral Lanes in Broadgate – 25% off food and drinks Sunday-Thursday
Pizza Express – Belgrade Plaza – 25% off your bill Sunday-Thursday and other offers available throughout the year.
KFC – Cross Cheaping – Free Popcorn Chicken Snack Bucket when you spend £3 or more.
German Doner Kebab – The Burges – 15% student discount when spending £6 or more.
McDonalds – Cross Cheaping & West Orchards Shopping Centre – Free Cheeseburger, Mayo Chicken or McFlurry® Original when you buy any Extra Value or Wrap Meal
Bistrot Pierre – Cathedral Lanes in Broadgate – 20% off food and drink Sunday-Thursday
Subway – West Orchards – any footlong for £4.99. Valid at Subway West Orchards Store for students only until 31/12/23.
Uber Eats – £10 off your first 2 orders over £15
Deliveroo – Get £10 off on orders over £15
Fashion & Style
H&M – Lower Precinct Shopping Centre – 15% off
New Look – Lower Precinct Shopping Centre – 10% off (Amazing limited time offer… Student discount of 20% off – Offer available from Friday 29th to Friday 6th October).
JD Sports – Upper Precinct – 20% off with Uni Days.
Footasylum – West Orchards Shopping Centre – 20% off in store and on line
Pandora – Lower Precinct Shopping Centre – 10% off
Entertainment & Lifestyle
Odeon Cinema – Skydome – 10% off food and drink, 2 for 1 cinema tickets every Tuesday
Waterstones – Lower Precinct – 10% off, sign up to Waterstones Plus Student for a further 5% off and to earn points when you spend.
PureGym – Bishop Street & SkyDome – 30% off when signing up.
Student Nights Out in Coventry City Centre
Nights out in Coventry City Centre are a well-known experience for those studying in the City. We ensure security and safety is of utmost importance in the City Centre, offering Nighttime Safety Briefings to students.
With a great number of venues to attend and different experiences to be had, the businesses in Coventry know how to put on a great night for students.
Castle Grounds makes a great stop along the way in your student night out, with an Open Mic Night at Castle Grounds on Thursdays and Speed Quizzing with Quizmaster Steve at Castle Grounds on Mondays it's a great place to visit and get involved in the bustle of activity and excitement.
Music and Comedy nights at HMV Empire are a must, A multi-sensory rave experience with immersive production & reality-bending theatrics. Experience some amazing acts and bands with great atmosphere and music like House DJ Joel Corry (11th October 2023), Foreverland House Music Party (18th November 2023) and Bombay Bicycle Club (23rd October 2023).
Catch Twenty Two Club Lounge Thursdays. The high-energy crowds and high-quality hip hop means the dance floor is always packed so you'd be advised to get there early, enjoy a drinks deal and make your way to the dance floor. Catch Twenty Two also offers a student card called the Pink Lady for £25, which guarantees you free entry, jumping the queue before midnight and an hour of unlimited mixers at 11pm.
The Belgrade Theatre offers lots of shows and events for students to enjoy, from dramatic theatre pieces to comedy nights from popular comedians, it's a great place to find something to see with friends.
Samoan Joes is a tropical haven nestled right in the heart of Coventry, the classic tiki bar with a twist. Enjoy Cheese on Toast Tuesdays, Sangria Night Student deals and VYBE Thursday's for a night of dancing and 2-4-1 cocktails every day from 4pm-8pm!
JJ's opens its doors every Friday delivering an incredible, immersive nightclub experience including a giant video wall, festival-level production and permanent full-venue dreamland décor with a rotating roster of some of the UK's strongest resident DJs bringing you the biggest and best sounds/singalongs.
Players Bar Coventry is your one stop shop for a great night out. From find bottomless student events from freshers to UV an everything in between. With a feast for the eyes throughout the rooms and great DJ's playing the best music, it's a great place to head to.
The Yard is Coventry's #1 LGBTQ+ venue offering the best venue for all those looking for a fun night out. From free shot karaoke nights to drag queen shows featuring top queens, to house music nights. Head to the yard for fun, laughter and an amazing night out.
Where to study in Coventry City Centre
Finding the right atmosphere to suit your working environment can be tough, maybe your dorm is too quiet, the common areas are too loud, the library is lacking in good coffee. There are a plethora of places in Coventry City Centre for you to hot desk and study.
Baxter Baristas at 16 Hales Street is a great place to visit, with an inviting atmosphere, great coffee and top notch food, it's the perfect place to set up your work desk for the day in a variety of hot desks.
Nineteen 58 at The Belgrade Theatre offers stools, seats, booths and more for working. Located in a quiet corner, the café is home to pastries, hot food selections and great coffee and drinks options.
Coventry City Centre Events
Coventry City Centre know how to host great events with the best of them, from half term fun to building the magic of Christmas for the holiday season, there is always some fun to be had in the City Centre for Students. Last year we helped to erect a giant ice rink in Broadgate along with the traditional Christmas Market that features each year. The Belgrade Theatre offers the annual Christmas Panto, popular with all ages in Coventry and a true festive event to see in the holiday season.
Check our latest news and social media for upcoming events in the City Centre.