Return of the Students
The middle of September each year heralds the arrival of some 28,000 students to Coventry University (CU). They would fill 85% of the Ricoh Arena or 322 London double-decker buses. Wow!
But they aren't all 'extra' – 10% already come from Coventry and 39% are from the Midlands area. So many of them know the area and the city well and chose to study at Coventry University over heading to the bright lights of another city.
However, as city residents, it's easy to feel a bit like an invasion has taken place! You could say that we're a victim of our own success…after all, we have not one, but two amazing Universities in Coventry (Coventry University & Warwick University).
We see the arrival of these students as essential in supporting our City Centre to continue to grow and develop.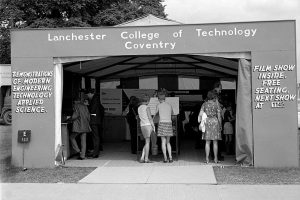 So what have the students done for us?
1 in every 25 jobs in Coventry exists directly or indirectly as a result of the University. From the staff at the campus to associated business partnerships, suppliers and contractors, Coventry University is a major employer for the area. It's almost a guarantee you know someone whose employment is linked to the University.
CU provides more consultancy services to businesses than most UK universities, and partners with key industries including health, automotive, aviation, cybersecurity and creative. Each partnership enriches the university's academic quality which improves the teaching provided to students – which makes it a more desirable place to study and attracts more students. This is one of the factors that the Times Higher Education UK metrics ranked CU as 2nd for teaching excellence in 2017.
Voted the University of the Year for Student Experience (The Times and Sunday Times Good University Guide 2019), Coventry University offers a great student experience which means nearly a quarter of students stay in the city and area after they've finished their studies. Many of them take on roles at the numerous businesses that collaborate with CU, and others start up their own businesses – more than 250 businesses have been started in the area from a Coventry University graduate.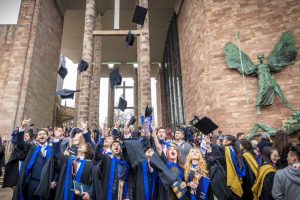 Multicultural makeup
The city of Coventry has always held its arms open wide for migrants, welcoming them in and embracing culture and differences (and feeding them a few batches and the odd Godcake in the process!). We invented the idea of twinning with other locations, and are now twinned with 26 places from 18 countries around the world. It's no surprise that our multicultural heritage and make up attracts students from every nation and country. The city and the University continue to work with partners overseas, and students highly value the opportunities for trips abroad during and outside their study time.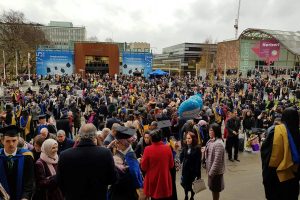 Blending workplace and community
The University works hard to prepare students for the workplace, with innovative teaching environments like the Faculty of the Factory Floor. CU students finish their studies ready to hit the ground running, able to make a valuable contribution from day 1 of their first job.
The free public lectures offered by CU staff in 2015/16 were attended by 1.8 million people – more than any other UK university lecture series. CU have also invested more than £125million in the redevelopment of the city centre, with buildings like the Civic Centre being brought back from redundancy. CU was the first university in the UK to champion social enterprise, promoting entrepreneurship and innovation inside and outside the university, and is now an award-winning team. Last year alone 15 social enterprises were established to benefit the local community (2017/18).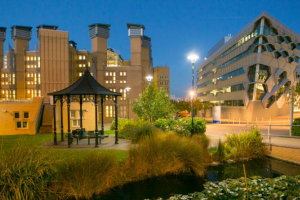 Let's not see it as an invasion… let's see it as an infusion of fresh blood, ideas and talent, that join us to innovate, integrate and invigorate our city and strengthen us to take on the challenges ahead.