Enjoy a festive feast in Coventry
Nothing says Christmas quite like festive food and drink and there's plenty of that in Coventry.
From festive menus to Christmas cocktails, food and drink is a key part of Christmas in Coventry, with something on offer for everyone from couples to colleagues and families to friends.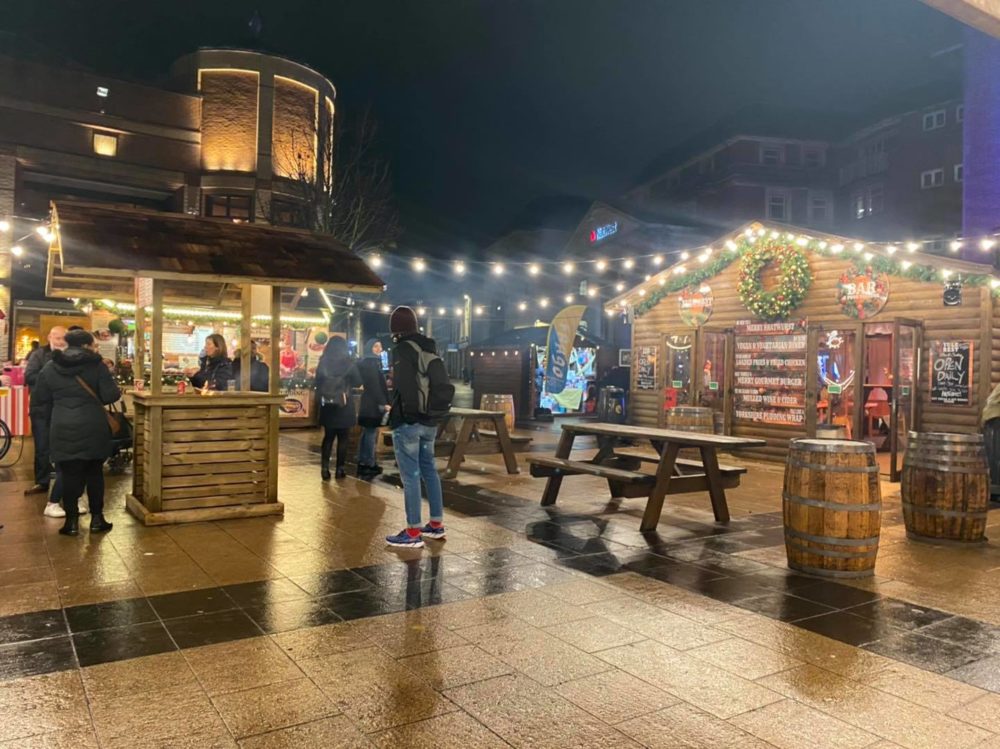 You'll find all sorts of festive food in Coventry thanks to its great mix of restaurants, from big-name chains to independent offerings. They offer a range of cuisines from around the world as well as classic Christmas dishes to get you in the festive spirit. If it's Christmas drinks you're after, there's everything from festive cocktails in some of Coventry's best bars to the option of a beer or glass of wine in one of the city's cosy pubs.
If you're planning a Christmas meal in Coventry, you can choose from anything from Brazilian to British and Caribbean to Korean. In Broadgate in the heart of the city, you'll find festive menus from The Botanist, Bistrot Pierre, Cosy Club, Slug & Lettuce, Las Iguanas and Turtle Bay. If you're coming for the panto in Coventry, you've got plenty on your doorstep for a Christmas meal, including independents like The Artisan Bar & Grill or The Mulberry or perhaps the newly-refurbished Bella Italia.
Across Belgrade Plaza you'll find the Telegraph Hotel, which is offering all-inclusive party nights in its spectacular Editors Suite including a three-course meal, free-flowing drinks and dancing. Or you can enjoy a more traditional festive lunch or dinner in its Forme & Chase Restaurant.
For an independent option with a bit of a difference for your Christmas celebration in Coventry, there's a whole array of options. Try the Green Dragon on historic Spon Street for a festive menu or head to Rodizio Rico for a Brazilian feast. If you head slightly out of the city centre you'll find even more restaurants in Priory Place and along Far Gosford Street right up to FarGo Village where you can have a Caribbean Christmas party courtesy of Leave it to Esmie.
Festive street food in Coventry
Christmas in Coventry comes with all sorts of extra festive fun – including festive street food options. In Broadgate, which has been transformed into a winter wonderland thanks to a spectacular canopy of lights, you'll find ​​Coventry BID's Christmas cabins are packed with food and drink including mulled wine, hot chocolate, burgers, fancy fries and other festive foods. You'll even find fire pits ready for you to toast marshmallows as a treat. Alongside these cabins, you'll find all of Coventry regular food traders if you fancy a break from traditional Christmas dinners.
If street food is your thing, head to Factory at FarGo Village which has several resident traders from burgers to pizza and sweet stuff. Order what you want then enjoy an afternoon or evening with a few drinks, taking in the independent traders and entertainment and events on offer at this cultural hub.
If you'd rather have a festive cocktail than a full three-course meal, or go out for a few Christmas drinks after your Christmas meal in Coventry, then there are all sorts of options. If a Christmas cocktail is your kind of thing, head to Dhillon's Spire Bar, which serves up signature cocktails in a spectacular location complete with heated outdoor cabins. In Broadgate, you can find festive drinks at some of the country's biggest chains including The Botanist, Turtle Bay, Slug & Lettuce and Cosy Club, where you can also dine on one of their festive menus. If you're looking for somewhere close to Coventry Cathedral – home of Coventry Glides ice skating this festive season – try the Castle Grounds for everything from festive menus to festive bottomless brunch.
If you want a great beer for a Christmas drink in Coventry, head to Twisted Barrel in FarGo Village to try some of their creations brewed right there on the premises, or head to another of Coventry's top breweries Dhillon's Brewery and its sports bar, the recently-opened Sky Blue Tavern. You'll find cocktails galore at Mexican restaurant Selminas on Spon Street, and just a few doors down you'll find the perfect Christmas party venue in Coventry in the form of tiki bar Samoan Joe's, which serves up everything from cocktails to specialised rums, all with some impressive flair skills from the bar staff.
If it's a quiet Christmas drink in Coventry that you're after, there are plenty of pubs to choose from, from the Old Windmill on Spon Street to the Town Wall Tavern with its tiny snug known as the 'Donkey Box'.
For a late-night Christmas party in Coventry – or any other time of the year – head to The Yard, an LGBTQ+ venue with great music, cabaret acts and more perfect for rounding off the night.