Coventry Watch Museum
Coventry Watch Museum Project consists of a group of people, many of whom were born and bred in Coventry, who are seeking to inform people about the history of watchmaking which was so important to the industrial development of the city.
The Watch Museum Project tries to preserve artefacts and buildings and to carry out historical research. The group's long term aim is to see a working museum established where watches and tools would be displayed together with photographs of people, buildings and maps of the areas in which the work took place. There would also be the opportunity to see a watchmaker carrying out repairs and making replacement parts. An enormous leap forward was taken in December 2002 when the purchase of some cottages in Lower Spon Street was completed and The Project is now working towards converting the cottages and land into a museum. Preliminary work is being done by volunteers but the aim is to secure substantial funding to enable the major structural work to be carried out professionally.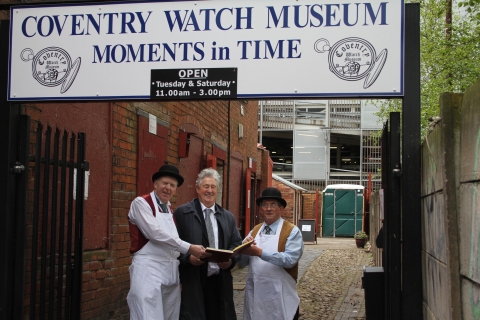 Court 7, Spon Street, CV1 3BA
Opening Times
Mon: CLOSED
Tue: 11am-3pm
Wed: CLOSED
Thur: CLOSED
Fri: CLOSED
Sat: 11am-3pm
Sun: CLOSED
tourist
cathedral
worship
medieval
free for students