Coventry Food & Drink Festival
Saturday 23 & Sunday 24 June
Coventry Food & Drink Festival 2018 is set to bring the city to life with a mouth-watering showcase of the best food and drink producers from Coventry and the surrounding area.
Combining bustling stalls, live cooking demos, pop-up street food and bars, live music, DJs and foodie activities for children and families, the festival will be located in Broadgate and the area outside Holy Trinity Church.
Bring an appetite, your shopping bags and enjoy delicious food and drink on the go, while taking away a range of fresh festival goodies to enjoy at home. Get inspired to cook, bake and eat well at this lively and vibrant celebration of all things foodie!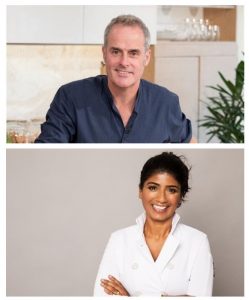 This year sees the resident chef from 'This Morning', Phil Vickery take to the stage on Saturday 23 to showcase food demonstrations.
On Sunday 24 we see Anjula Devi take to the stage to showcase her fantastic Indian style of cooking.