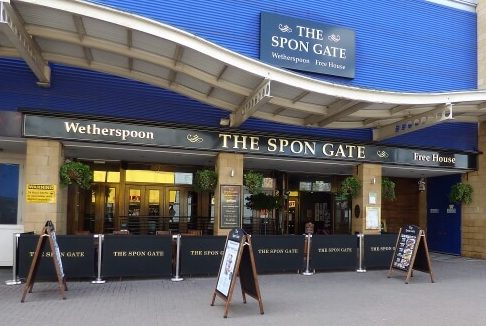 Spon Gate
Location: Skydome, Croft Road, CV1 3AZ
Cuisine: Pub food
If you are going on holiday, planning a day out, off to a sporting event or taking in a concert – find Spon Gate to make your trip complete! They offer a large quality selection of real ale, lagers, ciders, wine and spirits! They're also a JD Wetherspoons supplier of great tasting food!
Spon Street runs along the north side of the Skydome complex. Now part of a conservation area, Spon Street has many of Coventry's ancient listed buildings. At the east end of the street, near Saint John's Church, stood Spon Gate. Built soon after 1391, it was one of the 12 gates in the city wall around Coventry. Spon Gate was demolished in 1771.
Mon-Thu : 8:00am-12:00am
Fri : 8:00am-1:00am
Sat : 8:00am-2:00am
Sun :  8:00am-12:00am
Disclaimer: Kindly visit their website/contact them for most up to date information/timings.