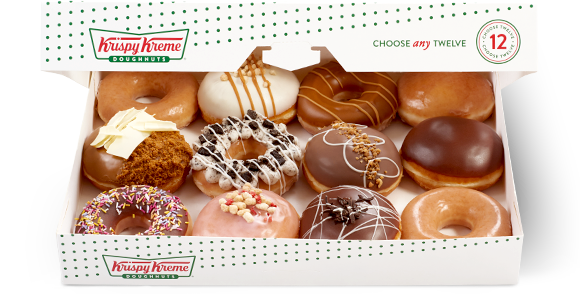 Krispy Kreme
Location: Canteen Food Court, West Orchards, CV1 1QX
Cuisine: Doughnuts
We're famous for our amazing doughnuts, but did you know that every Krispy Kreme doughnut is hand checked and our decorated range are always hand filled by one of our awesome team? And whether you buy your Krispy Kreme doughnuts from a Krispy Kreme store, one of our retail partners, have your doughnuts delivered or buy on the Krispy Kreme website, your doughnuts are always made fresh daily!
Ever since we began making doughnuts in Winston-Salem, North Carolina, back in 1937, we've put fresh at the heart of everything we do. Every one of our delicious doughnuts is made fresh daily to guarantee those melt in the mouth moments!
Every single doughnut that leaves a Krispy Kreme line is hand checked and our decorated range of doughnuts are always hand crafted and hand finished. Whether it's the delicious sprinkles, chocolate icing or Reese's peanut butter drops, our doughnuts are made with pride, each and every time.
Mon-Sat : 9am-5:30pm
Sun : 10:30am-5:30pm
Disclaimer: Kindly visit their website or contact them for most up to date information/timings.