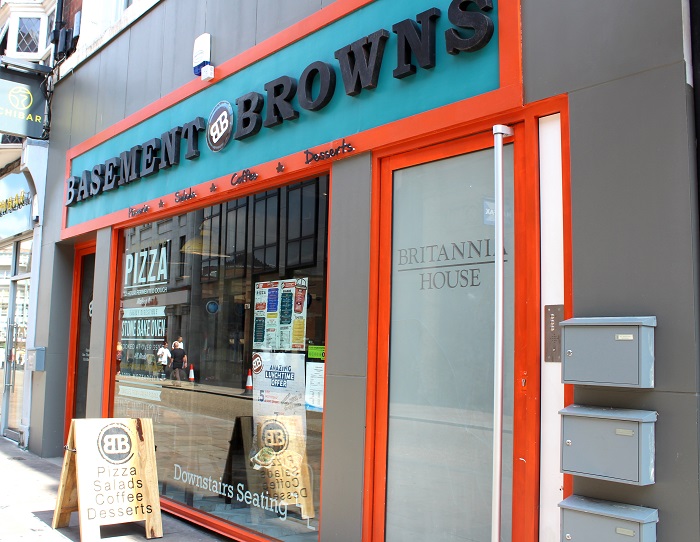 Basement Browns
Location: 14 High Street, CV1 5RE
Cuisine: Pizzeria
Our ancient dough recipe requires time and dedication, this results in the finest authentic Neapolitan Pizza'… We let it rest for days, this breaks down the glutens and gives you a wonderful and wasy digestible dough.
We use only 'Real Ingredients' here at Basement Browns… From locally produced veg to meats found in various regions of Italy, we are fully focused on bringing your Pizza to life with our ingredients.
Our story
This is a small tale of four brothers and their conquest to bring to the world the most incredible pizza in the most fantastically unique way… Basement Browns own way..
It had all started with a friendly discussion around the dinner table that turned into a debate and that debate turned into deliberation; all this about the one thing they all had an inseparable passion for, 'pizza'!!
Incidentally that discussion took place in a basement at their family home, it was the start of their journey and it was motivated by a vision of bringing real pizza to the nation using traditional techniques and nutritionally balanced ingredients.
They travelled far and wide to some fantastic cities throughout Italy and the US.
They found that local pizzerias were often the places in town to relax and unwind after work, or even to simply grab a quick and convenient snack at any time during the day. With that in mind, they set out to bring the perfect pizzeria to their home own…
The hard work had just began, the brothers were not just content with repeating popular dough recipes, they wanted to go one step further and create their own formula which would surpass the very best…
So after spending years in the kitchen testing, tasting and testing some more (including a specially formulated wheat base), they were finally ready to unleash 'Basement Browns' on to the world!!
Mon-Wed : 05:00-10:00pm
Thu-Sun : 12:00pm-10:00
Disclaimer: Kindly visit their website or contact them for most up to date information/timings.