What to do in Coventry city centre this Easter break
Easter has arrived in Coventry! Whether you have got some time off with the kids, or you are just looking to make the most of the long weekend, we have some super things going on in Coventry City centre, so you won't be short of things to do with family and friends. With plenty of Easter activities to choose and so much to see, you can make this Easter one to remember.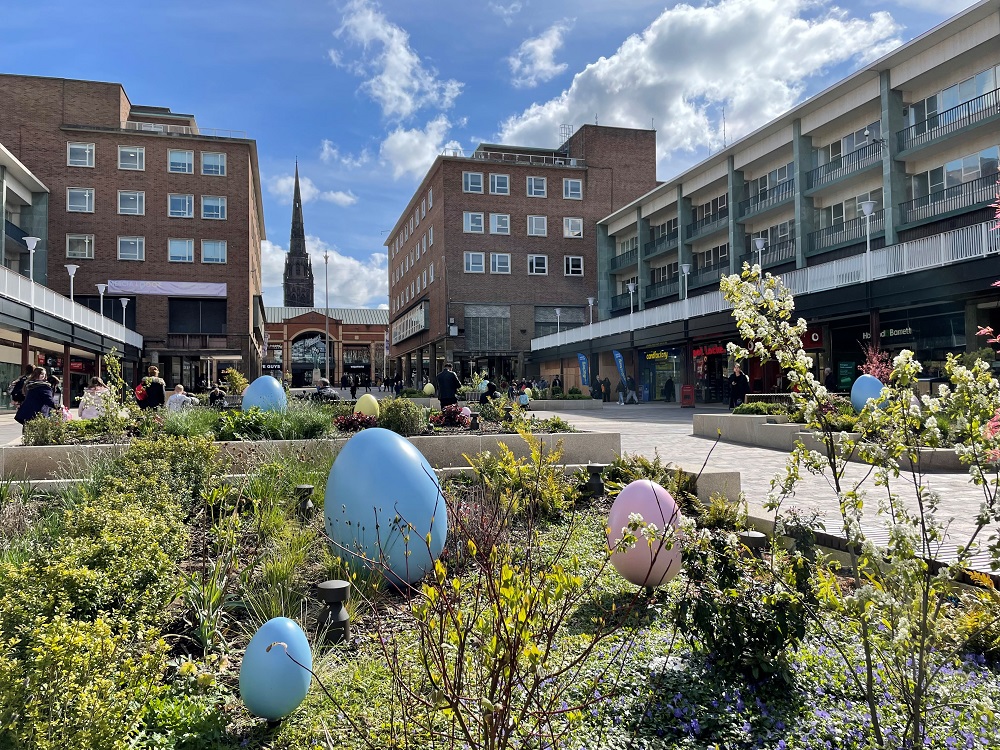 With so much taking place in the heart of the city, we have the ultimate guide to what you can do with your family and friends to enjoy Easter and make the most of your time in this wonderful city.
Easter in Coventry wouldn't be the same without a visit from the Easter Bunny
The team at Coventry BID are welcoming a very special guest to Coventry City centre on Good Friday.  You've guessed it, the Easter bunny is making an exclusive visit to the Upper Precinct in Coventry to hand out some eggs to anyone lucky enough to be visiting. 
Come on down to the Upper Precinct anytime from 11am until 3pm, on Friday 15th to be in with a chance to say hello to the Easter bunny and pick up an egg.  But don't wait too long to get there, the Easter bunny only has a certain amount to giveaway, so make sure you get in there quick to collect your chocolate treat. 
Free Easter trail and workshops at Belgrade Plaza
On Wednesday 13 and Thursday 14 April, you can pop along to Easter HQ at the Belgrade Plaza and join in on their Easter Trail and children's Craft Workshops.
Experience an Easter trail with a difference as you help clumsy bunny find all his carrots.
After losing his carrots around Belgrade Plaza, Clumsy needs to find them to give him enough bounce left to hide all the eggs. All successfully completed trails will be rewarded with a special Easter treat.
As well as this special trail there will also be some fun crafting workshops back at Easter HQ. Plus, you can pick up a colouring sheet on the day to enter a competition for a chance to win a tasty food voucher to spend at one of Belgrade Plaza's restaurants.
Easter HQ is located in the marquee on the grass area outside the theatre and is open from 11am until 4pm on both days.
After all the hunting and Easter activities you may have worked up a bit of an appetite. Belgrade Plaza has many fantastic restaurants on site, including Bella Italia, Pizza Express, and The Mulberry. For more information and location details, please visit www.belgradeplaza.co.uk.
Easter at Skydome
Hop over to Skydome to meet our furry friends at the petting zoo and get a makeover from our face painters before having your photo taken!
Join us for some cracking springtime fun at Coventry Skydome this Easter on Thursday 14th April, between 11am-3pm.
FREE FAMILY FUN… and lots of chocolate to enjoy.
Assembly Festival Gardens Easter fun
On Thursday 14 April, we're re-opening our gates in Coventry's city centre with a programme filled to the brim with comedy, music, theatre and more. Details found here. 
To celebrate the return of Assembly Festival Gardens, we invite you to an Easter egg hunt for all the family. No need to book, just turn up!
From 12pm, there will be a range of delicious chocolate eggs and special prizes hidden within the garden, come along to join in the fun.
Enter the Luminarium this Easter
People are invited to enter a world full of dazzling and enchanting views when a Luminarium is installed in Broadgate from Friday 15 April to Sunday 24 April.
The mind-bending structure will be taking over Broadgate during Easter half-term and will offer both adults and children a transformative sensory experience unlike anything they have felt before.
Visitors are encouraged to share their photos from the event by using the hashtag #CovLuminarium.
The Albesila Luminarium is a maze of 27 egg-shaped domes each offering a mesmerising kaleidoscope of sounds, colours and shapes. This all builds to a crescendo in the expansive Main Dome where it all knits together to create a constellation of stars spiralling upward to the heavens.
Standard tickets to enter the Luminarium are £4 and can be booked now on the Assembly Festival Garden's website.  A concession ticket, which costs £2, is also available.
Eco-friendly Easter in Coventry
If you fancy doing something a little different this Easter, with an eco-twist, then Lower Precinct shopping centre is holding an Eco-Easter event on Saturday 16th April where shoppers and families are invited to come along and join in on a series of workshops.
There will be two educational workshop stations set up in central Lower Precinct. One is a 'Grow your own Sunflower' workshop and the other is a 'Decorate a Butterfly, Bee or Flower' using all things recyclable. A great way to have some Easter creative fun whilst also learning about some of the benefits of protecting the environment.
Each workshop is free for children to take part and booking is not required.
That's not all. Visit the Lower Precinct on Saturday 16 April and you might be lucky enough to bump into Peter Rabbit, as he comes to visit the Lower Precinct's Cubs Club mascot – Lenny the Lion. You can also sign-up to become a Cubs Club member and get your first stamp to redeem your free gift!
The event will take place in Lower Precinct on Saturday 16th April between 11am – 3pm and is open for all ages. More information can be found here.
Mulberrys Easter Egg-stravaganza
The Mulberry pub, located at Belgrade Plaza is also joining in the Easter spirit as they set out to put on their Mulberrys Kids Easter Egg-Stravaganza! Taking place on Saturday April 16 between 11am and 2pm, this event includes Easter workshops and games for all the family to enjoy.
The Easter workshop starts at 11am and runs until 12:50, followed by the special Easter bingo from 1pm.
Check out their website to find out more and see what else they have available over the Easter weekend – The Mulberry
West Orchards shopping centre
Whilst you are out and about in Coventry, don't forget to visit West Orchards shopping centre. It's great for a bit of retail therapy, for you and the kids and has a fantastic food court full of different places to grab some food and take a break. They have everything from sandwiches and snacks, to fried chicken, noodles, burgers, and healthy options too! A great place for all the family and caters for every single tastebud!
Kids are the art this Easter at the Herbert art gallery and museum
Something a little different is taking place at the Herbert this Easter. The Herbert is hosting a series of daily activities as part of the living sculptures art workshops.
This Easter the Herbert is giving children the opportunity to transform themselves into colourful living sculptures and walk along the runway in their junk modelled outfits, headdresses and other junk fashion accessories made from recyclable martials.
There are a number of different workshops available from junk modelling outfits to selfie masks and art garlands, all of which aim to bring out your children's creative side, using recyclable materials, from crisp packets to wastepaper and cardboard.
For more information on the Herbert's you are the art activities, check out the details on the Herbert website; You are the Art: Living Sculptures
Room for more Easter fun?
If you are after more Easter excitement, there are plenty more activities that you can do in and around the centre of Coventry. We have highlighted just a few of our favourites, perfect for all the family and all age groups.
Laser Quest Coventry: Visit laser quest this Easter to take part in several different laser quest missions. Choose from the laser quest mission where you battle for supremacy in an immersive experience of sounds, lights, and smoke. Galaxy quest adventure golf, with its unique obstacles and structures to get around as you search for that hole in one. Or experience the exhilarating and entertaining escape room. For more information check out the website: Laser Quest
The Wave Coventry: If you've not experienced the wave yet, then this is a must! The wave is Coventry's own award-winning, indoor water park. Do you have what it takes to swim in The Wave? Find out more – The Wave Coventry
Planet ice is great for all the family, whatever age, or ice-skating ability. With all day ice skating making a return this Easter there is plenty of opportunity to have some fun on the ice. It's super easy to book your session on the ice online on the Planet Ice website.
Catch up on all the latest movies available during the Easter break at Coventry's very own Odeon cinema. It's home to nine screens, so you'll be spoilt for choice.
Don't fear the height! The Ballroom Climbing Wall in Coventry is another popular activity for all the family. The ballroom climbing wall is Coventry's only dedicated bouldering climbing facility. If you haven't tried it, it is worth giving it a go. So much fun for all the family and you can get competitive too! Have you got what it takes to beat the wall? Hopefully we have given you some great ideas for things to do in Coventry this Easter. Looking to add some food and drink options to your weekend, make sure you check out or food and drink guides HERE