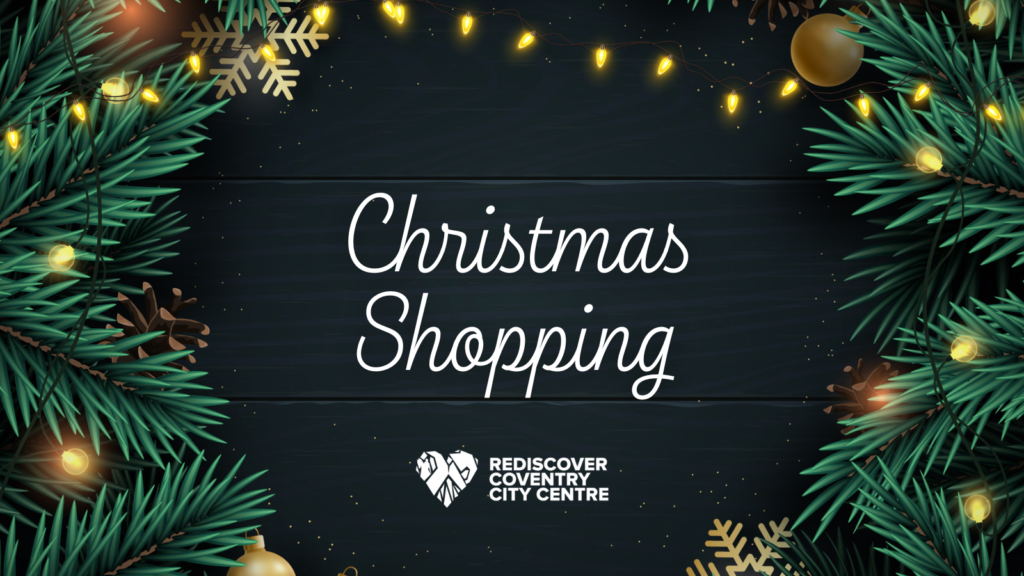 Christmas is the season of giving and whether you've planned, budgeted, and wrapped by December 1st, or you're more of the last-minute grab-and-go type, this guide will be your best friend when the time comes. With its diverse range of stores, Coventry offers something for everyone on your Christmas shopping list.
From stocking fillers to designer items, Coventry has it all. In this blog, we'll take you on a journey through the heart of Coventry, exploring various shopping categories to help you find the perfect gifts for your loved ones.
For that little extra: Stocking Fillers
Lush: Lush is a haven for those seeking fun and top-quality bath bombs, shower gels, and handmade cosmetics. The scents of lush products alone are enough to make for a delightful treat, not to mention they're also eco-friendly! Their holiday-themed products are a must, with flavours and colours that capture the festive spirit. Head to Lower Precinct Shopping Centre.
The Perfume Shop: Fragrances are a classic and cherished gift, and always a safe bet. The Perfume Shop stocks a wide selection of scents for men and women. Whether you're looking for popular brands or unique niche perfumes, you're sure to find a fragrance that will make your loved one's Christmas.
The Body Shop: The Body Shop offers a range of sustainable beauty products. From skincare to makeup, you'll find an array of items that are perfect for stocking fillers. Their gift sets are beautifully wrapped, making them a convenient choice for the holiday season. Recommendation: their Body Butters are top tier!
Boots: Boots is a go-to destination for beauty and healthcare products. You can find a wide range of cosmetics and personal care items, making it an ideal stop for finding stocking fillers that cater to different tastes and preferences. They have an extensive range of mini products, perfect for grabbing a couple of new products for your person to try out!
Waterstones: For the bookworm in your life, Waterstones is a treasure trove. From bestsellers to niche titles, you can pick out books that will warm hearts and ignite imaginations. Don't forget to check out their beautiful stationery and bookish merchandise for additional stocking fillers.
Bodycare: If you're looking for affordable beauty and personal care items, Bodycare in West Orchards Shopping Centre is a great option. They offer a variety of toiletries, cosmetics, and accessories, perfect for creating a personalised stocking for your loved ones.
For the Fitness Lover: Sports Wear
JD Sports: When it comes to sports and athleisure wear, JD Sports should be your first stop. They offer a wide range of athletic apparel, footwear, and accessories from popular brands such as Nike, Adidas and so much more. Whether you're shopping for a fitness enthusiast or someone who loves a comfortable and stylish look, JD has you covered.
Foot Locker: Foot Locker is another fantastic option for trainers and athleisure. They carry the latest releases and classic styles from renowned brands. Whether you're into basketball shoes or running gear, Foot Locker has the perfect gifts for gym-goers & sports lovers.
Footasylum: Footasylum is another top choice, known for its trendy sportswear and streetwear collections, it's the place to go for stylish and urban-inspired apparel, making it a great choice for fashion-forward individuals who appreciate sporty look.
Sports Direct: If you're looking for a one-stop-shop for sports gear, Sports Direct is the place to be. They offer a vast range of sports equipment, clothing, and accessories. If you're stuck for inspiration, rest assured, you'll find a variety of options here.
For the Cosy Nights in: Sleepwear
Primark: Primark is known for having trendy clothes that won't break the bank, and when it comes to pyjamas and loungewear, they are no exception! You can find cute & cosy options to keep your loved ones warm and snuggly during the winter season.
New Look: New Look features a diverse collection of nightwear, including pyjama sets, robes, and slippers. Their designs cater to various tastes, from classic and comfortable to trendy and stylish.
H&M: If you're the family who rocks matching Christmas Eve pyjamas, H&M has everything you need. With a range of festive children's, women's & men's sleepwear, you'll find everything you need at H&M.
River Island: River Island is known for its fashionable nightwear and loungewear. They offer trendy and chic options for those who want to feel stylish even when they're relaxing at home.
Peacocks: Peacocks offers a range of affordable nightwear options. Their cosy and comfortable pieces are perfect for staying during the cold nights.
For One to Remember: Designer Items
Francis & Gaye: Francis & Gaye is a high-end watch and jewellery store. If you're looking for a luxurious gift to make someone's Christmas extra special, their selection of designer watches and jewellery is sure to impress. These timeless pieces are perfect for treating your loved ones during the holiday season. You'll find everything from Gucci to TAG Heuer.
Flannels: Flannels is a fashion boutique that stocks a curated collection of designer clothing, shoes, and accessories. If you're looking to surprise someone, Flannels offers a wide range of luxury brands and statement pieces that will surely do the trick. C.P. Company, Gucci, Prada, Alexander McQueen and more available. You can also earn a £20 voucher to spend in-store when using the Click & Collect service.
Kong: For the fashion-lover in your life, Kong is a designer streetwear store. It's a great place to find unique and trendy designer items that can be hard to come across otherwise.
For a Festive Treat: Food
Marks and Spencer: Marks and Spencer is a well-known destination for gourmet food and fine wine. You can create custom hampers or choose from their pre-made gift selections, perfect for those who appreciate culinary delights and don't forget your Christmas food.
Sainsbury's: Sainsbury's offers a variety of food and drink options. You can find everything from festive snacks and sweets to quality wines and spirits, making it easy to put together a delectable gift.
Iceland: Iceland is a frozen food specialist, and they have a fantastic range of party food, desserts, and treats. Their frozen selection can make for convenient and tasty gift options, especially for busy holiday gatherings.
One for Anyone and Anything: Vouchers
The Botanist: For a unique dining experience, consider a voucher for The Botanist, where botanical cocktails and a vibrant atmosphere await. It's an ideal gift for those who appreciate good food and drinks in a stylish setting.
Turtle Bay: Treat your loved ones to a Caribbean culinary adventure with a voucher from Turtle Bay. Their Caribbean-inspired dishes and cocktails promise a memorable dining experience- perfect if they love a good time and trying new food.
Cosy Club: The Cosy Club offers a relaxed and comfortable atmosphere, perfect for enjoying a leisurely meal or drinks. A voucher for here would be perfect for your work-a-holic friend or someone who's always on the go!
Bistrot Pierre: For a taste of France, consider a voucher for Bistrot Pierre. Their traditional French cuisine and warm ambiance provide a delightful dining experience.
Mana Spa: Mana Spa offers the gift of relaxation and rejuvenation. A spa voucher is a thoughtful present for someone in need of pampering and self-care. We all know someone who could use a day like this, but would never think to treat themselves.
St Mary's Guildhall: St Mary's Guildhall is a historic and enchanting venue in Coventry. A voucher for afternoon tea or dining, can be a unique and memorable gift.
Telegraph Hotel: The Telegraph Hotel is a stylish and contemporary hotel in Coventry. A voucher for a stay or dining experience at this modern establishment is perfect for those who appreciate luxury and deserve a night off!
The Nook: The Nook is a Yoga and Pilates studio that offers classes ranging from beginner to advanced. Gift a few classes to the fitness-lover in your life, or the person who has a new hobby each week, so they can try something new. This would make both a thoughtful and unique gift.
Make the Most of Coventry City Centre This Christmas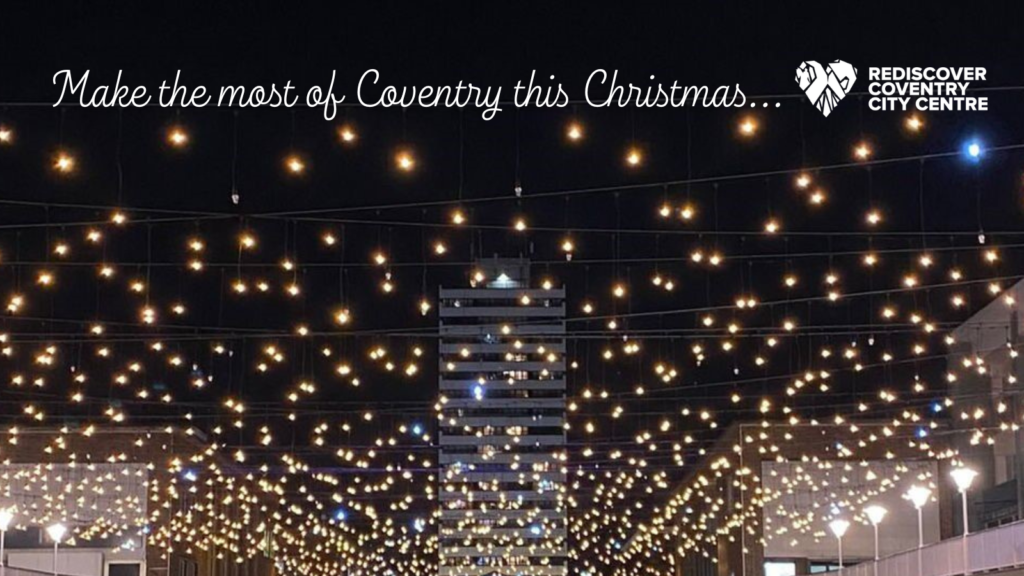 We hope this guide has shown you that you don't need to travel far to find the best gifts for your loved ones this Christmas, Coventry has everything you need and now you know where to look!
The city centre offers a diverse array of shopping options whether you're hunting for a designer watch, comfy pyjamas or vouchers for memorable experiences, Coventry has something for everyone. This festive season, explore the heart of Coventry and make your Christmas shopping a joyful experience filled with wonderful surprises for your loved ones.