Festival of Imagineers – Finale!
September 30, 12.00-4.00pm
The Festival of Imagineers culminates in an explosion of extraordinary and ingenious outdoor performances and installations from local, national and international companies transforming spaces in and around Coventry's iconic cathedral quarter into a place of play.
Pif-Paf – Seed
FOI favourites, Pif-Paf, present a brand new one man show. A surprising and inspiring hitch-hike on the journey from small acorns
to great oaks with Rockabilly Tree- Planting Anarcho-Nomad Wilford and his Chicken Napoleon. They're planting trees where they shouldn't, living in Wilford's shed and on the run from his past and his arch- enemies – the Robot Slug Police
– out to get him for his contraband seeds. SEED follows them through a VERY tough day.
Cardboardia
Cardboardia, an independent international community of artists, performers, event managers and experts from Russia, USA, UK, the Netherlands and other countries, who make extraordinary parades and creative interventions in cities across the world through the medium of people and cardboard. During the festival the company will lead a making laboratory with makers and local communities at Moat House Leisure & Neighbourhood Centre in Wood End culminating in walkabout performances for the festival nale which will combine beautiful and quirky cardboard structures and props, performance, participation, dance and Tyran of Cardboardia's newly developed unique, giant Alchemical Music Box.
Balbir Singh Dance Company – Dancing Bicycles
Addicted to adrenaline, dependent on power, this action-packed performance features Keelan Phillips, UK and Euro champion BMX rider. Creativity and physicality are pushed to their extremes in this thrilling combination of performance art and urban culture.
"A wonderfully crafted dance piece which incorporates sport, storytelling, live music and contemporary dance in an unusual but ground-breaking manner." Stephanie Upsall, Nexus Festival
Wet Picnic – Suitcases
In our modern world where the Internet and technology are evolving faster than we are, it is hard to keep pace. We all exist somewhere online: a virtual trace, an online persona, a trail of clicks and searches that leads directly to you. Suitcases brings you the Internet 2.0, 'the Internet LIVE! A new level of immersion!' When David makes an innocent joke, the internet takes it and runs with it, making him a viral sensation. But all of this attention is not necessarily a good thing.
A darkly comic show, which confronts our interaction with technology, public shaming and the modern blur between our virtual and real worlds. Suitcases shines a light on our addiction to technology, mixing Wet Picnic's trademark humour with a darker story.
BOSI – the Mobile Telephone
If it's ringing you should probably answer it. Be warned it's at the cutting edge of technology: A MOBILE PHONE!
Thrill Laboratory – VR Playground
A collection of unnervingly entertaining virtual reality worlds, to be experienced and performed riding on playground swings. Don a virtual reality headset, jump on a playground swing, and be transported on an exhilarating swing- powered adventure.
High Roller: scoot through the metropolis inside a mono-wheel. Thrill Laboratory rating "turbocharged".
Shuttlecock: leap tall structures in a single bound. Thrill Laboratory rating "bonkers".
Jellyfish: undulate upwards to escape the deep abyss. Thrill Laboratory rating "eerie".
Walker: from baby steps to giant strides – go strut your stuff.
VR Playground is an experiential ride installation and public aerial performance created by Brendan Walker and his Thrill Laboratory.
VR Playground is commissioned by Horizon Digital Economy Research, Norfolk & Norwich Festival, Greenwich + Docklands International Festival, and Without Walls. It is supported by Arts Council England and produced by Thrill Laboratory, Horizon Digital Economy Research, and Norfolk & Norwich Festival.
Thrill Laboratory is a uid organisation of artists, designers, scientists, engineers and technologists, all of whom have a passion for experimentation www.thrilllaboratory.com
VR PLAYGROUND comes with an age recommendation of 11+.
xzx
Everyone is invited to play this semi acoustic music making sculpture. Standing over three and a half metres tall, this dynamic interactive music installation has beautifully tuned illuminated aluminium chime bars which respond to touch with constantly evolving patterns of light and sound. Created by artist and inventor, Michael Davis, The Illumaphonium can be enjoyed by all people of all ages.
"I want people to feel safe to explore sound without any fear of 'doing it wrong'. Too many people have their inherent creativity sti ed at a very young age and go through life thinking that music and art is something that only other people do, but not them. I hope that through enjoying the Illumaphonium and the other sonic pieces I have made some people may realise that creativity and expression belong to and are part of everyone." Michael Davis
Location
University Square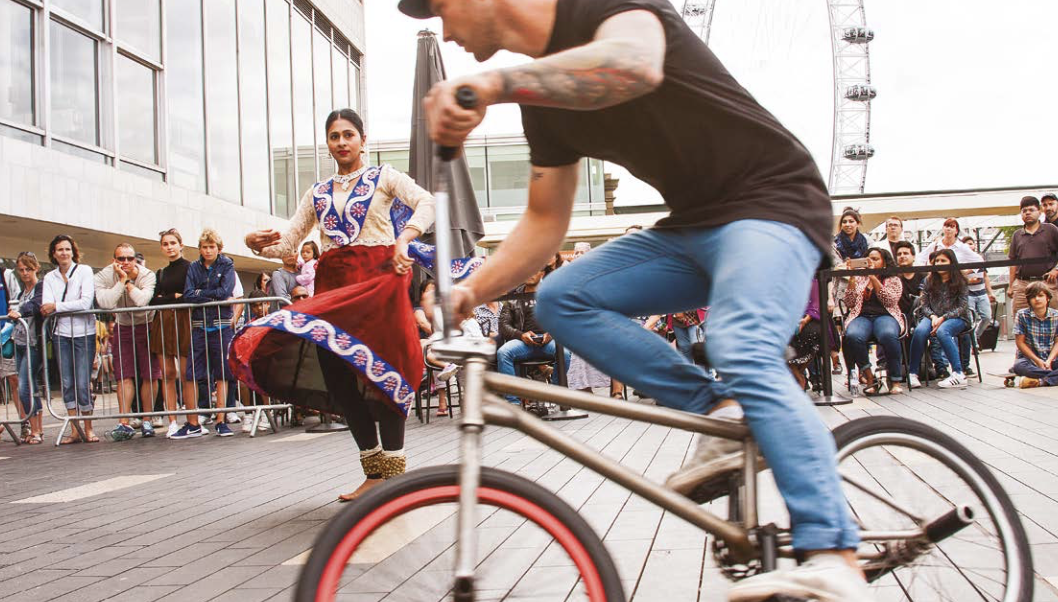 Meet the BID Board
Coventry BID